" All-in-one" a "c o m p a c t" – screen printing line from KINZEL

This report presents a 2-color label screen printing line from KINZEL Printing Systems GmbH in Bielefeld, Germany. A team of design and qualified staff has combined the latest technology and innovations, combined with more than 40 years of roll screen printing experience, to create a compact label screen printing line. This new flatbed screen printing concept (line) includes more quality and functionality.
The latest electronic components characterize this printing line and are now standard equipment as a must. It includes, among other things, touch panel operation and a freely programmable control system with the option of storing many job-related job and print parameters in order to recall them for subsequent repeat jobs. Further features are: pneumatic screen clamping, adjustable squeegee pressure, squeegee angle adjustment up to 30°, the pressure and flood squeegees operate via a high-quality linear guide, material and squeegee travel can be adjusted separately, an excellent registration system for maximum print-to-print or print-to-punch accuracy, electric screen frame adjustment in x/y direction and various other features.
The maximum printing speed of the "c o m p a c t " screen printing line is specified up to 4,000 prints per hour. With a print length of 250 mm, this corresponds to up to 1,000 meters per hour, a speed to be able to work profitably. The ability to simultaneously print multiple colors, dry, automatically laminate, die-cut and slit allows for efficient production. The design also provides the operator with ideal easy access to all processing stations.
If required, a "c o m p a c t " screen printing line can be equipped with up to six or more colors, hot stamping, additional laminating units, light control surface, label counter and integrated cross-cutting unit. The possibility of adapting the inclusion to an existing customer's fabrication has also been thought of, all for an almost limitless choice of colors, foils and papers.
Clever printing - fast, easy set-up and makeready
.... experience the new way of printing: fast, compact and accurately fitting, a small printing line with high performance and low space requirements. Simple, safe and user-friendly handling combined with a good overview of the entire screen-printing line is the basis for all KINZEL printing and finishing lines.
On a footprint of 1.5m wide and 8m long (5 x 26ft w x l), this full-featured 2-color screen printing compact line includes:
Unwind station
2 screen printing units, print format 330x500mm (other formats on request)
Touch panel operation with job and job parameter storage
Combi dryer with UV and hot air unit
Laminating unit with carrier take-up
Flat die cutter for highest die cutting accuracy
Automatic waste grid take-off
Slitting unit with integrated edge extraction system
Rewind station with 2 friction winding spindles
For further information contact:
KINZEL Printing Systems GmbH - Bielefeld Germany
Tel. +49 (0) 521 934240 Fax +49 (0) 521 92404 –98
or e-mail info∂kinzel-ps.com
---
With KINZEL PHOTOVOLTATIC printed on flexible materials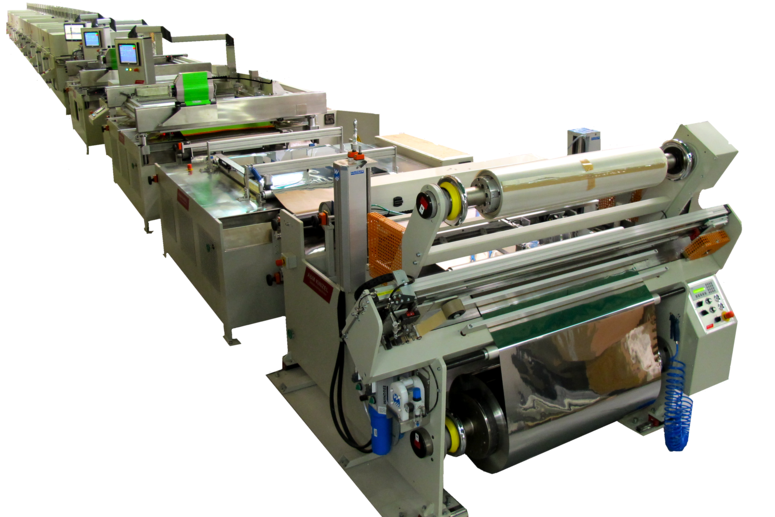 The trend to generate energy from non-fossil fuels, but also from solar energy, among others, without emissions, is unstoppable. Since the solar cell industry has entered the market, interest in photovoltaics has also increased very strongly.
As is well known in Germany new buildings must be equipped with a part of photovoltaics for energy production/solar power generation. This portion will certainly increase in the future, as well as the share of retrofits in already existing houses on roofs, walls, factory buildings, barns, etc. on textiles (backpacks, clothing, etc.), even on vehicles (trucks, cars) the application of flexible photovoltaic films (flexible CIGS solar cells and modules) is possible. Flexible photovoltaic modules offer the great advantage of being applied around corners and curves, on uneven surfaces, awnings / sunblind's, outdoor area e.g. caravan (camper).
Instead of leaving the cell production in wafer sizes KINZEL company located in Bielefeld shows the way of an automatic roll production in medium and larger formats. CIGS thin-film modules are printed on coated flexible foils (carbonate, polyester, steel) by using the roll-to-roll screen printing process. Meanwhile, work is continuing on a wide variety of transparent films (e.g. polyimide) which can also be used as a substitute for glass.
All films are generally flexible (bendable) and comparatively light. The advantage is a fast and cost-effective roll-to-roll processing. Here has been found an approach to reduce the manufacturing costs in order to be able to continue to produce competitively and to expand the area of application for photovoltaics. More details about this forward-looking technology can be found described in the technical literature.
The printing format can be preselected by the customer according to his requirements. The screen-printing line shown here is equipped with two printing units, dryers (thermal + UV), special test stations and various other features. In the first printing unit, a UV varnish is applied for insulation, and in the second printing unit, the guiding varnish is printed.
The guideline coating is dried in a special channel with a long drying length and afterthen rewound. With the production line described here, the maximum print format is 1000x1000mm. At a printing speed of 300 prints / h, 300 m2 / h can be produced. This means that approx. 1 square meter of film for solar cell production can be printed in one work cycle.
To keep the light-emitting surface as free as possible, it is important to print the screen-printed guidelines (grids) very narrow (usually approx. 2mm). It is important to ensure that the lines have a proper cable-cross-section (line print height) so that the generated electricity can be conducted to the consumer efficiently and without major losses.
The production line (see photo) consists of:
unwind station with material cleaning station
1. flat bed screen printing unit with web advance unit

UV drying
1 sqm-scan-camera system for measuring the layer height incl. marking unit

2. flat bed screen printing unit with web advance unit

physical (heat) horizontal drying
trace testing for discontinuation, termination and resistance incl. marking unit
rewinding station
The KINZEL team remains at your disposal for any further information you may need.
Please send your inquiries by email to info∂kinzel-ps.de or phone +49 (0)521 934 24 -0
---