Printing machines made in Bielefeld
- quality made in Germany
Innovative products for the printing industry
High quality printing machines for satisfied customers! KINZEL Printing Systems GmbH - founded in 1992 - offers a wide range of products for machines around the screen printing. They develop and manufacture innovative solutions roll-to-roll printing systems, screen and digital printing. For example:
laminators, die cutters, embossing presses, longitudinal and cross cutters, squeegee grinders, screen coating machines, hot transfer presses and much more.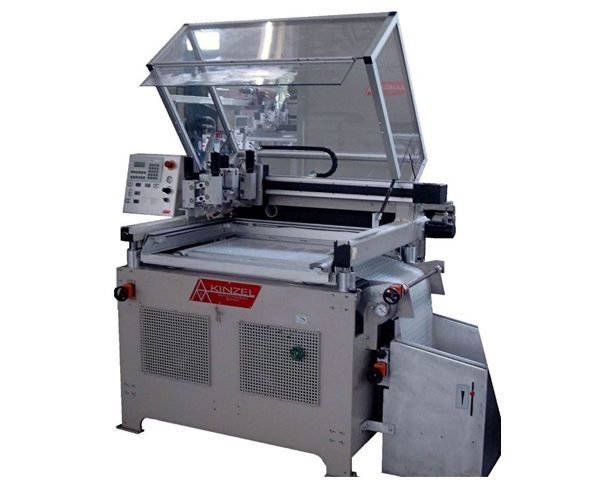 Do you urgently need to receive a spare part for your printing machine?
Benefit from our factory spare parts warehouse.
Contact us
Your advantage:
our top service in the field of printing machines!
The high industry-specific requirements of our customers for screen printing and digital printing machines are always the focus of our work. From planning to the realization of standard systems and individual R2R screen printing and digital printing systems or even finishing systems KINZEL offer products that are perfectly tailored to requirements. Extreme precision for the creation of printed products, simple operation as well as a long service life are advantages that distinguish every product from our company.
Just as extensive as the selection of printing machines are further machines around screen printing and also special accessory offers. A large selection of machines that optimally complement your printing systems and finishing machines rounds off the product range.
These include laser cutting systems, longitudinal and cross cutters, laminating units, transfer presses, coating machines and much more.
Your final product is our challenge
The printing industry is moving into a fascinating development. Digitization and technological innovations open the door to new possibilities. For each printing process the ideal solution. Highest customer satisfaction is the goal of our activities and actions. We already question conventional automated procedures in order to be able to recognize differing requirements and challenges at an early stage and develop innovative solutions - a stable basis for a longstanding cooperation.
Our core competencies
development and production of R2R screen printing machines (flat bed, cylinder, rotation)
digital printing machines for flexible (roll) materials
laser cutting systems
automatic exposition systems (R2R)
laminators
stamping and embossing presses
longitudinal and cross cutters
screen coating machines
squeegee grinders
heat transfer & transmission equipment
customized systems integration